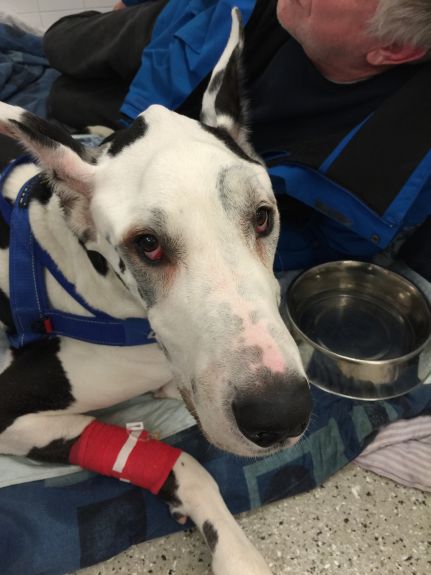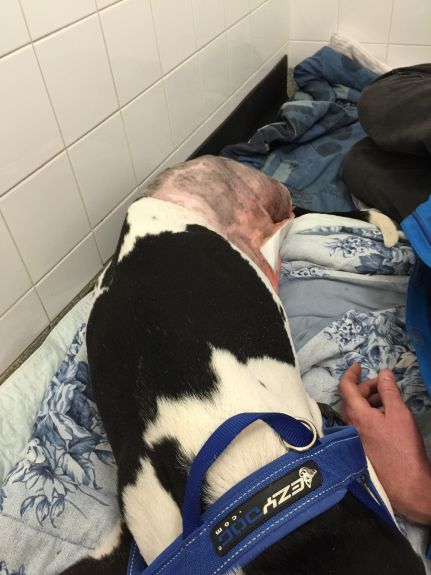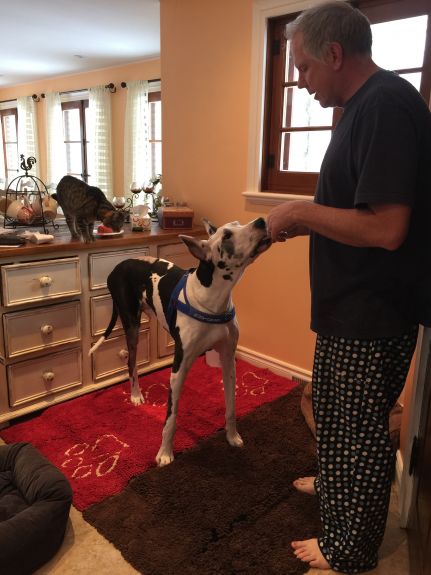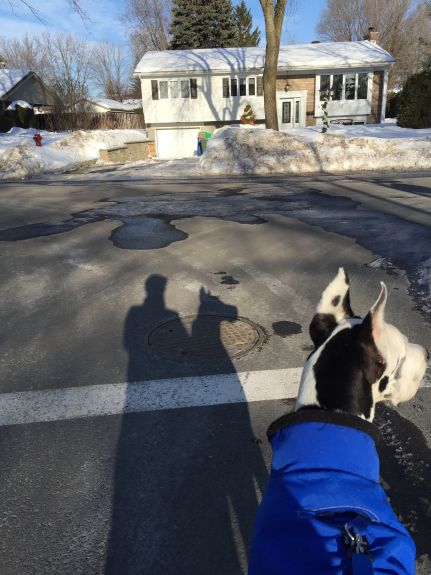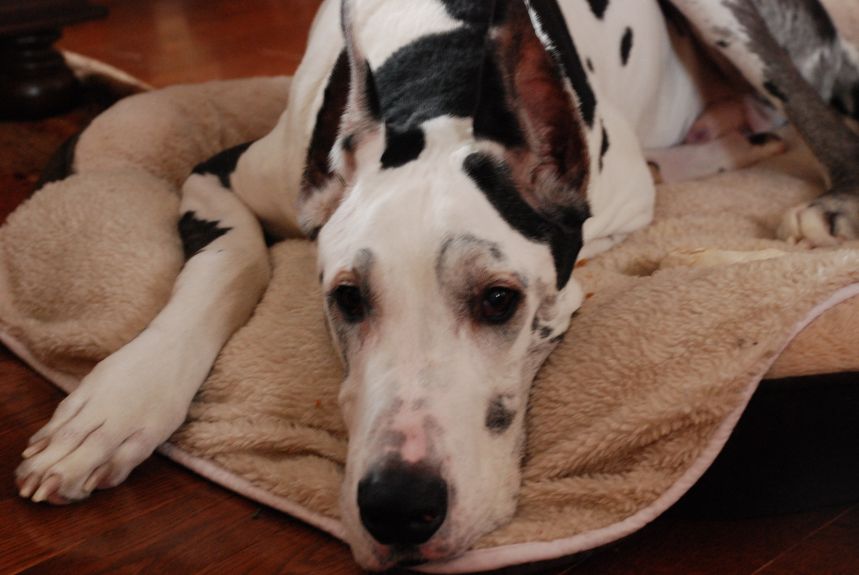 Hi,
We have been wanting to write our story but have been quite busy trying to get through the month of February! At last it is starting to look like Spring is right around the corner.
We were out with Borris taking an evening walk in mid December when he seemed to stumble slightly and fell on the snow "Bambi on ice" style?  We could not figure if he had slipped or just went down. Once we got him up and onto pavement we realized his left back leg was limp.  He miraculously did not seem to be in any pain so we slowly made our way home, thinking maybe he had pulled something and it would straighten itself out, which it did to some extent as we arrived home.  Borris had suffered from a herniated disc earlier in the year so we thought perhaps it was pinching a nerve again.  But by the next morning he still was not using the leg and it appeared to be more of a leg problem than a disc problem so off to the vet we went for xrays.  The xrays revealed strange discoloring in the left  hind femur and the vet wanted to send it along to a specialist to get another opinion but said it looked like a tumor.  We got the reply right before Christmas that it was definitely cancer and that we should continue the pain killers that had been given to us and perhaps come in for something stronger.  We asked what our options were and were told given his age "Borris is a 10 year old Harlequin Great Dane" and the herniated disc problems, we could consider amputation, but may not be the best option, perhaps just try to keep him comfortable or seek the advice of an oncologist.
He was doing quite well on the painkillers, and was using the leg again and it was Christmas and a very busy time for us as we work in retail.  Considering the fact that the disc had given him quite a bit of trouble over the summer I was leaning towards the decision that amputating a hind leg would probably be out of the question.  I also was convinced that there was no way a Dane could hobble around on 3 legs due to their height and weight.  Everything was going well so I put things on the back burner almost convincing myself they were wrong about the diagnosis.
January 23rd, when I arrived home from work I noticed that his ankle on the bad leg was very swollen.  So we started some anti inflammatories.  A few days later the swelling was gone, however, he was not using the leg anymore at all.  I really did not know what to do.  He did not seem in pain, but was definitely walking on 3 legs.  During that week my daughter found your website and started showing me videos of dogs who had had a leg amputated.  I was amazed by their resilience and did some more research.  I finally made the decision to go visit an oncologist.  Our appointment was for February 9th.
Between the time I made the appointment and the appointment the femur of the bad leg started to swell.  Borris still could not use the leg at all and now it was really becoming a hinderance, I myself just wanted it OFF.  We were going for short walks to do his business and he was in effect already a tripawd, and to my surprise he was pretty good at it despite the snow, ice and terrible cold. He was DOING IT!  However when in the house he spent all of his time lying down and he seemed uncomfortable.  We anxiously awaited our appointment. Then the Saturday evening before our appointment he started vomiting and lost his appetite. Not sure if it was caused by the prednisone he was taking or the pain.  I managed to get him to eat some cooked chicken breast on the Sunday  to keep him hydrated until Monday's appointment.
At the appointment on Monday the 9th, the vet agreed, he was in good shape.  Xrays revealed his lungs were clear, and we scheduled his surgery for the 12th of February. The vet increased his painkillers for the rest of the week and added an antacid to coat his stomach.  I had already started weaning him off the prednisone for swelling so we decided to remove it completely to be ready for a non steroidal anti inflammatory post surgery.  It was a go for Thursday morning.
Well by the next morning Borris was in worse shape.  No appetite, lethargic, barely moving.  I thought he was done.  Called the vet to ask could it be the pain killers are too strong?  Could it be the prednisone withdrawal? We decided to cut the pain killers for the evening, but I saw no improvement.  The only thing I could get him to eat was boiled chicken with carrots, but at least he was eating.  Next day still no improvement, called the vet again and told him there is no way this dog can go into surgery in the shape he is in.  Are you sure it is not the prednisone, I asked him?  He replied that he was starting to think it was and could I come to the office immediately to get a small dose and start him back on it, and then we would wean him off over the weekend and postpone surgery until the 17th of February, the following Tuesday.
So we started the prednisone again.  5mg, but it did the trick.  He was back up.  Not very mobile but awake and hungry again. It was the longest weekend ever.  Waiting for Tuesday the 17th and hoping we could just make it there.  The weather was -28 degrees.  I cannot tell you how many times he had to pee in that awful weather.  My husband and I usually took turns but at this point Borris could hardly lift himself and I was just not able to help him get the 125lbs off the bed. We moved our mattress into the livingroom so we could be with him 24/7. He was unable to climb the stairs to our room and has never slept downstairs alone.
On the morning of the 17th, we loaded him into the back of our truck and I sat back there with him.  He was so tired and you could see the pain in his eyes.  It was snowing…again! But Borris managed to drag himself from the truck and into the clinic.  We walked him to his stall and placed his bed on the floor.  He has never liked being in a cage and panics.  There was no panic.  He was so tired.  My husband managed to convince him to lie down and I got down on the floor and gave him a kiss and a hug and told him one way or another the pain was about to go away….I promise.
I left there thinking, there is nothing else I could have done, and now we hope for the best.  Just after noon I got the call from the surgeon that all was good.  Surgery had gone well and Borris was in recovery.  What a relief.  The tumor had grown so large in the past week it was crazy.  I asked if someone else would call me later to let me know how he was doing and he said yes.  I wanted to just give them time to take care of him and for him to relax, I was not sure going by that night would be good for him.
The oncologist called me around 7pm to say that Borris was stable and doing ok but not waking up as much as he would have liked.  Not sure if it was again the prednisone withdrawal or just not handling the morphene.  So they did a morphene reversal with my approval and once again continued 2.5mg of prednisone, very mild, but again enough to do the trick. By morning the news was good,  he was doing well, we could come visit.  And visit we did.  Already he looked better.  Daddy brought him some Dad's oatmeal cookies!  That was bad!  Then Daddy lied in the stall with him.  We were both so ecstatic.  The oncologist said he was doing super and would be released the next day.  He was waiting for results on the tumor as it had grown so much.  We talked about treatments and what to expect, and reluctantly said good bye to let him rest.
The next day, it was snowing and freezing again!!  We picked Borris up around 5pm. The nurse brought him to a room to meet us.  She had a sling on his back.  He was very hunched down, so I lay his blanket on the floor so he could relax while we went over all his meds.  At this moment I was scared, and thinking oh boy maybe this was too much for him.  He looked so helpless lying on the floor.  The bad news…the cancer was very aggressive and will most likely come back so recommendation for chemo was high.
My first priority, get him home and see how he adapts.  Once again out into the wind and ice with a dog with 3 legs!  The worse February in history.  How to get him up into the truck without hurting him??? My husband decided to just lift him in, the ramp was too difficult.  Poor guy kind of just slid in and and collapsed on his blanket. I hopped in beside him and threw his coat and a blanket over him.  It was freezing. It's about a 20 minute drive home.  He just lay there with his eyes open the whole way.   Carried him out of truck (not me, my husband!) and got him into the house and on his bed (our bed, our mattress on the floor).  I sat on the mattress and for the first time in 2 weeks he managed to drag himself close and snuggle up.  What a feeling that was!  Once again, I could now help him up as he was also putting effort into it, and we managed to go out to pee several times that night.  The good hind leg got straighter by the hour. We bought several throw carpets to line the floors of the house and put up gates at stairways. It was tricky for him to manoevre around at first, but day by day things improved.  We encountered some problems with the Tramadol.  Seemed to make him very anxious and alert.  Spoke to the vet and decided to take him off of it, because I needed some sleep.  It seemed to have an opposite effect on him. He was awake almost all day and night. Once off of that medication things seemed to start moving in a better direction daily.
It has now been 3 weeks since surgery.  Everyday is a little better. He is even greeting people at the door again.  He amazes us! We are taking several short walks a day.  His stitches were removed last week and doc says he looks great.  He is now getting off and on the bed on his own and can get up from a lying position on his own.  He has been trotting to the corner of the street and looking towards the park for 3 weeks, today we made it to the park.  Coming back was slow, but he did it, it helps that it is +2 today and sunny and the roads are clear for once.
Thank you for all your videos and posts that really helped me to push forward with this surgery and lifestyle.  I know that there are still hard times ahead, chemo etc., but I still have those brown eyes to look into, and I will take that for as long as I can. Today we started our first round of chemo.  Hope I am doing the right thing.  Every new step is a little scary.